Your Financial Report Explained
Below is a description of a sample financial aid report from Frostburg State. The report shows all aid available to you. You are not required to accept it all. For example, you do not have to accept a Direct PLUS Loan, but it will be shown in your financial report as available to you.

Information from your financial aid application such as income, assets, family size, as well as residency status, program, and enrollment determines your eligibility for aid and what type of funding you will receive.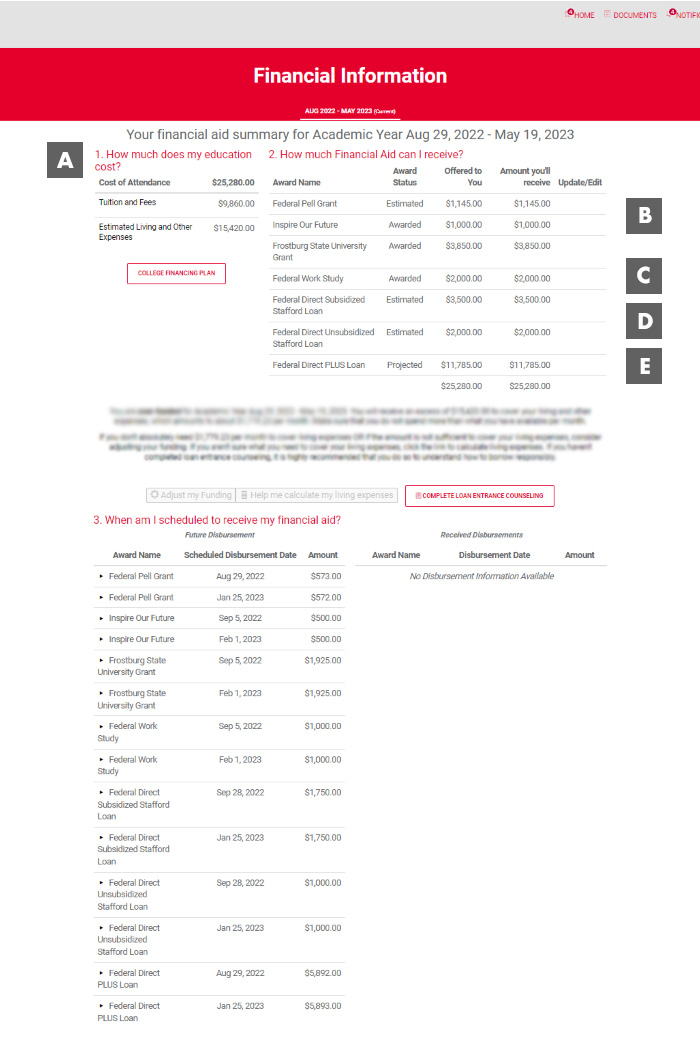 [A] Estimated Cost of Attendance: This shows the estimated amount it costs to attend Frostburg State for the period covered by your financial aid report. This includes both what you must pay the university directly and what you will pay for related expenses (room and board, entertainment, books, transportation, etc.). Your actual expenses may vary.
[B] Gift Aid: this is aid that includes scholarships and grants that do not have to be paid back.
[C] Federal Work-Study: This federal program allows you to apply for Work-Study jobs and earn a paycheck to help you pay for college.
[D] Loans: These are funds that students borrow from the federal government or other lenders. Loans must be repaid when students graduate or stop attending school. Federal loan repayment begins six months after you graduate, withdraw, or drop below half-time status. Borrow only what you need.
[E] Direct PLUS Loan: This is a federal loan that graduate or professional degree students or parents of dependent undergraduate students can use to help pay for education expenses. This loan has a fixed interest rate and accrues interest while a student is enrolled in school. It is included in the report if it is available to you, however graduate/professional students and parents do not have to accept a Direct PLUS loan.