Guitar Ensemble & Studio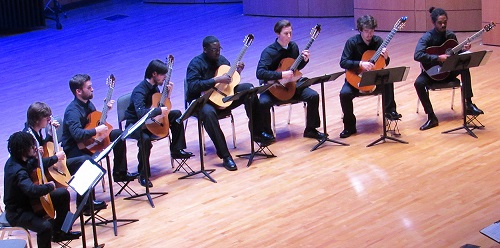 Isaac Greene, director
Hello and thank you for your interest in the guitar program at Frostburg State! Guitar majors take a one hour private lesson per week and participate each semester in guitar ensemble which includes performance classes as well as weekly rehearsals.
The curriculum is based around the repertoire and technique of the nylon string classical guitar, however the music studied and performed by students here covers a plethora of time periods and styles. The student's own musical interests are highly valued and incorporated into their study of the instrument. Individual strengths and weaknesses are carefully identified and the student is pushed to develop musically, technically, and professionally in preparation for a career in guitar performance and education.
In guitar ensemble, the students perform arrangements and original compositions ranging from Bach to the Beatles as well as contemporary works newly written for guitar quartet. The Ensemble performs on student recitals and for community events throughout the year as well as a full concert each semester in Pealer Recital Hall.
If you have any questions regarding the program please feel free to email at jigreene@frostburg.edu.
Visit our Concerts page for Upcoming Performances