FSU University Chorale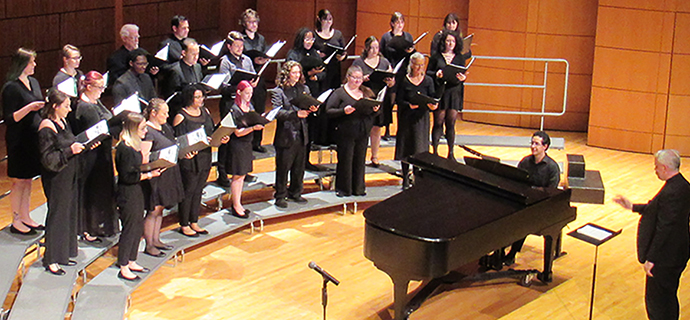 Dr. Scott Rieker, Director
The University Chorale performs large and small choral works from various styles and periods of music. They frequently perform works that are both a cappella and accompanied, often combining forces with various size orchestras to present major works from the choral repertoire. Noted for their diversity in repertoire, this ensemble performs both on campus and around the Mid-Atlantic region.
The University Chorale often collaborates with other FSU Choral and Instrumental Ensembles, faculty, students, and local organizations including upcoming collaborations with the Cumberland Choral Society.
The University Chorale has also been instrumental in the growth of music students at Frostburg State University through collaboration with Advanced Conducting students, students have the opportunity to work with and learn from each other each spring as part of the ensemble's ongoing emphasis on expressive performance through singing.
They have performed a number of large works including Choral Fantasia, Op. 80 (Beethoven), Requiem masses of Mozart, Fauré, and Verdi, Ein Deutsches Requiem (Brahms), Carmina Burana (Orff), and selections of Messiah (Handel).
For information on auditions, upcoming performances, or to request they visit your school, please contact Dr. Scott Rieker at 301.687.4110, or email choir@frostburg.edu
Visit Our Concerts page for UPCOMING PERFORMANCES
-----------------------------
POSTER GALLERY
FALL 2019: So I'll Sing With My Voice
SPRING 2019: The Poet Sings: Choral Settings of Poetic Masterworks
FALL 2018: Glossolalia: Singing in Tongues
SPRING 2018: Global Sounds: A Mosaic of Song
FALL 2017: A Journey of Hope for the Holidays
SPRING 2017: John Rutter's Gloria
FALL 2016: The Season of Joy through Musical Meanderings
Spring 2016: A Choral Fantasy
Fall 2015: Music of the Soul, Spheres, and Seasons