Phishing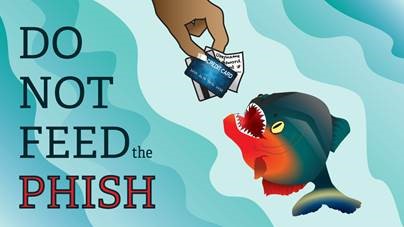 Just as a fisherman throws out a baited hook in hopes of luring a fish, Internet "phishers" also cast out shiny, attention-getting messages in hopes of reeling in an unsuspecting victim. "Phishing" refers to Internet crooks sending e-mails, texts, or instant messages urgently requesting personal information, such as passwords or credit card numbers, in the hopes that an unsuspecting recipient will take the "bait." These messages purport to be from a legitimate company, even sometimes from FSU! In reality, they are attempts at tricking you into revealing sensitive, personal information. FSU personnel will NEVER ask for your password by any means. If you receive an email, phone call, etc. asking for your password, it is most likely a phishing attempt so do not give out your password.
To report a potential Phishing attempt you can use the Phish Alert Button.
Here are 9 tips on how to identify a phishing or spoofing email.