Information Desk
Have questions? We have answers!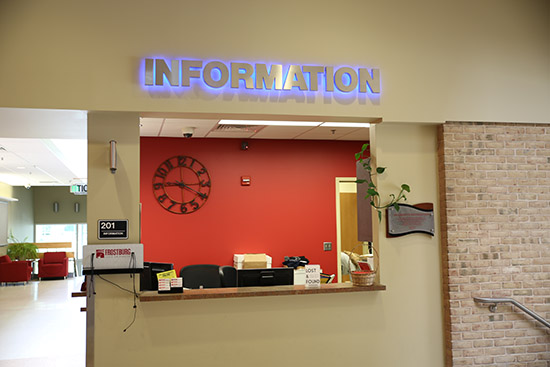 The Information Desk is located on the second floor of the Lane University Center, situated in the heart of campus. The Information Desk strives to serve the diverse needs and interests of the campus community by offering a multitude of services to students, faculty, staff, alumni, and visitors within the building and campus-wide. We offer general information, including directions and phone numbers; information for public transportation options; lost and found; offer information regarding events, and help disseminate important information about the University. The Information Desk also serves as the University switchboard, answering and routing calls and requests for information via phone.
The Information Desk is now available via Live Chat during regular operating hours. Click the link in the bottom left-hand corner of any Lane University Center & Event Services webpage to reach our staff.
Services Provided
Lost and Found


Commuter resources and Loaner Items
Various supplies are available for loan at no charge. A valid FSU ID will be held for borrowed items.

Car jump starter
Tire air compressor
108 piece tool set
Scissors
Stapler
Tape Fax Services We can send and receive your faxes for $1 per page.



Lamination
Prices:
Card & Picture Size (4 x 6): $0.25
Letter Size (8.5 x 11): $1


Recognized Student Organization Mailboxes and Packages


Postage stamps and Mail Services
Can't make it to the Post Office? We have postage stamps and envelopes for sale and you can drop off your mail for pick up at the Information Desk!


Transportation Services and Information
Allegany County Transit bus schedules and information


Campus Maps