Conference/Meeting Venues & Recreation Space
The Lane University Center serves as the primary location for meetings, seminars, and break-out sessions. Included in this modern, air-conditioned facility are five meeting rooms with capacities of 12-20, each with a self-contained audiovisual unit (blackboard/screen/corkboard); one room with an audience-style capacity of 35 and dinners of 20; a larger meeting room providing the flexibility of audience-style sessions for 135 or banquets of 100, with darkening curtains, electrically- operated projection screen, infinite-control lighting, and adjacent banquet kitchen. The Multi-Use Room can seat 700 audience-style or 500 at a served banquet, can be divided into three different areas, and has in-room sound, electrically-operated projection screen, darkening curtains, and outdoor patio.
Pealer Performing Arts Center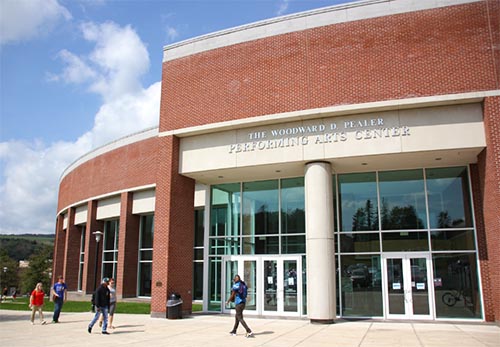 Gira Center for Communications and Information Technology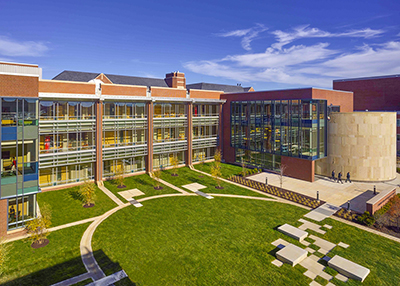 Quads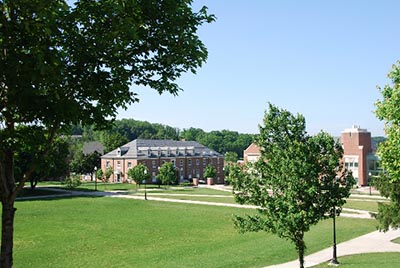 Cordts PE Center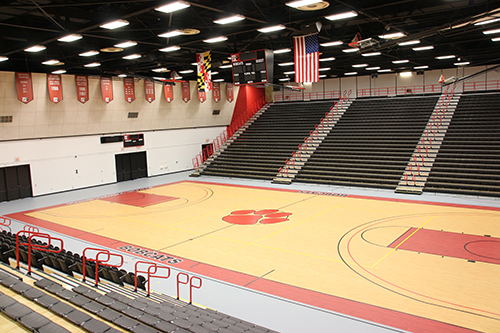 Rec Fields & Stadium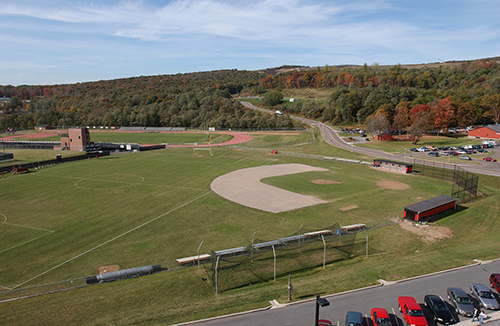 The University's Cordts Physical Education Center has available a large arena (suited for up to three basketball games at once, indoor volleyball or indoor tennis, and a jogging track), two racquetball courts, an auxiliary gym for basketball, volleyball, aerobics, etc., a baseball room with nets, weight rooms, and a dance studio. Outdoor facilities include six lighted tennis courts, a quarter-mile running track, and multiple sports fields. The indoor pool provides both 25-yard and 25-meter lengths, one and three-meter diving boards, and a second-floor observation deck.
Please refer to the floor plan of the Cordts PE Center.
The Cordts PE Center is available to conference guests for casual use at no charge; i.e., for recreational use outside of planned activities. Please be aware of the following rules governing informal use of the Center:
Racquetball courts, tennis courts, and the running track may be used any time on a first-come, first-served basis whenever an FSU athletic or academic activity is not scheduled for that particular area.
Reservations for use of a particular area for individual use (e.g., reserving a racquetball court) may be done by signing up in the Cordts PE Center on the day play is desired. Courts are available, beginning at 8:00 a.m., on a first-come, first-serve basis and may be reserved at the equipment desk, the lower floor of the Cordts PE Center.
Equipment such as racquetball racquets, tennis racquets, volleyballs, basketballs, tennis balls, badminton racquets, and shuttlecocks may be provided by the conference group or the individual delegates if requested in advance, and then returned in full.
The Cordts PE Center staff will be provided with a copy of your conference delegates' methods of identification (usually name badges). Delegates should be prepared to present their identification upon request.
Summer Building hours are 8:00 a.m. - 6:00 p.m., Monday-Thursday and 8:00 5:00 p.m. Friday. Additional hours to accommodate your needs can be arranged in advance, for an additional fee.
No dark-soled athletic shoes of any type are allowed on any activity area of the Cordts PE Center.
Extensive use of the Cordts PE Center for organized activities, classes, etc., requires the payment of a facilities fee, as does any request to have the Center open after-hours.
The University swimming pool is available for rental at $30.00 per hour plus lifeguard fees. The hourly rate for guards is $10.00; a ratio of one guard per 15 swimmers is required by University policy, with a maximum of 75 swimming in the pool at any given time.
A special note for youth conferences: The University requires that adult chaperons/counselors be on hand during scheduled use of the pool to assist the lifeguard(s) with any discipline or control situations that may arise.
A suggestion regarding the swimming pool: This is singularly the most popular facility on campus during the summer. Should you wish to reserve it, please do so as soon as possible, as reservations are usually made months in advance. Hours are also posted on the locker room doors for "open swim," directed in the summer by the Office of Conferences & Events. This activity is for FSU students, FSU staff and their families, and members of Activities for Life.