Digital Signage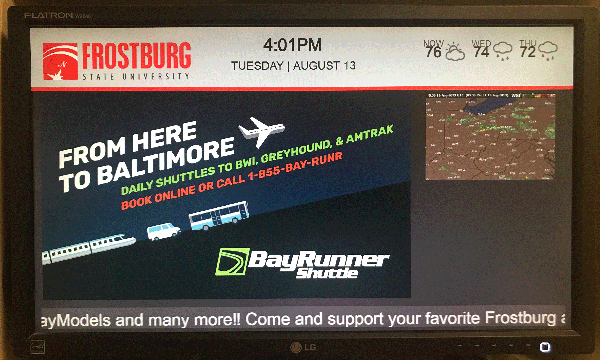 The Lane University Center Digital Signage System consists of 14 monitors placed in the Lane University Center lobbies near main entrances and outside of each main meeting venue which offers student organizations, FSU offices and departments, and local businesses a new and exciting way to get the word out about events, opportunities and meetings. The goal is to inform and market events to the FSU campus and community to increase engagement at Frostburg State University. An average of 3,200 people travels past these monitors daily.
The Digital Signage System can accommodate a maximum of sixty 10-second advertisements at any given time. Accordingly, each advertisement is guaranteed to be displayed at least 6 times per hour/per monitor. An organization may display up to 3 advertisements on the Digital Signage System at the same time.
Event advertisements will be displayed for a maximum of 2 weeks or until the date of the event, whichever deadline occurs first. Two weeks is defined as 14 consecutive calendar days.